Rose water has become a very popular beauty product for the skin and is a cheap alternative to the rather expensive rose oil. In the cosmetic field it can be used in many different ways.
Its moisturizing, vitalizing, antibacterial and antioxidant properties make rose water an excellent product for face, body and hair care. Even in aromatherapy, the harmonizing and relaxing scent of rose water is in great demand.
Rose water is a true all-rounder in cosmetics, which can help in a natural way like a beauty booster for various problems.
Face care with rose water
Rose water is an optimal facial care product that helps the skin to achieve new freshness. It is suitable for use on all skin types, but oily, mature and tired skin can particularly benefit from it.
Rose water for oily skin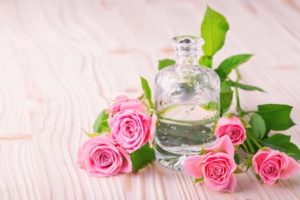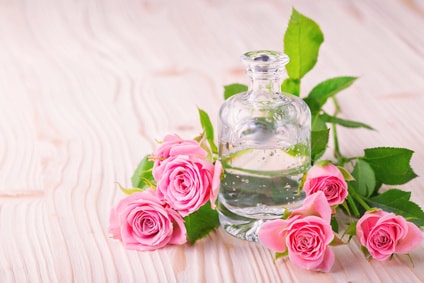 Rose water itself is non-greasy and therefore particularly suitable for the care of oily, impure and also sensitive facial skin. It can accelerate the healing of blackheads and pimples, but it does not degrease the skin. Rose water can also alleviate acne and the inflammation it causes, and it can also counteract the formation of scars.
The application is very easy:
With a cotton pad, the rose water is dabbed directly onto blackheads, pimples or inflammations. Healing pimples can also be moistened over a larger area. The rose water should then be well absorbed.
Conventional facial tonics contain alcohol and can cause skin irritations. Rose water has an antibacterial effect and provides moisture without irritating the skin. Especially sensitive and reddened facial skin can be treated gently with rose water.
Rose water for mature, tired skin
Rose water has an invigorating effect on mature, tired facial skin. The skin looks fresher, receives more moisture, can regenerate better and is therefore also firmer.
The application is also very easy:
Rose water can already be used in the morning as an invigorating facial tonic after morning hygiene.
If rose water is dabbed directly under the eyes, it can help against dark circles and swelling. The blood circulation of the skin is improved, deposits in the sensitive skin areas under the eyes can be better removed.
Facial cleansing with rose water
In addition to general facial care, rose water can also naturally remove make-up residues and neutralize the pH value of the skin. The skin is thus prepared for the subsequent care. A few drops – applied to a cotton wool pad – are already sufficient for gentle cleansing. For a better result, a little coconut oil can also be added to the rose water.
Rose water: nature's anti-aging remedy
Who doesn't know them? The little lines on your face that sooner or later will catch up with everyone. Rose water is considered a natural anti-aging remedy and can prevent wrinkles. The antioxidants it contains are a real miracle weapon against the first signs of skin aging. Thanks to its moisturising effect, the skin looks fresher and firmer.
Herpes and eczema are a thing of the past with rose water
Eczema and herpes blisters on the face are unpleasant and annoying. The antiseptic properties of rose water can help to alleviate these problems. To do this, cold compresses are sprinkled with rose water and placed on the respective areas. The skin is thus cooled and at the same time soothed.
Rose water for body care
What is good for the face helps the rest of the body. The rest of the body can also benefit from the positive properties of rose water by using it for general body care. There are many different ways of using it:
Rose water is excellent as an additive in bath water and can thus supply the entire body with moisture. The pleasant rose scent also ensures relaxation and a good mood.
Especially on hot summer days rose water is suitable in the form of a body spray or as a body splash also as a refreshing and light deodorant substitute. Mixed with some still water, rose water can be sprayed on the face and décolleté and gives a wonderful freshness kick as well as fresh and rosy looking skin.
Natural ingredients distinguish rosewater
The skin is the largest organ of the human body. It absorbs all substances that come into contact with it. This makes it all the more important to pay attention to substances that are as natural as possible in body care.
This is usually the case with rose water, provided that it is produced without chemical additives. The skin can benefit from the ingredients of an absolutely natural rose water without any restrictions. Especially for people with sensitive skin, which reacts to chemical substances with redness and irritation, natural rose water is an optimal body care product. Applied before shaving, rose water can also prevent razor burn and soothe reddened skin.
Hair care with rose water
It can not be denied: What's good for the skin is good for the hair.
And so it is not surprising that rose water is also suitable for hair care. And yet rose water has very different effects on the hair:
Dry and brittle hair gets more moisture and thus more shine.
Itchy and greasy scalp as well as dandruff can be counteracted with rose water, as it stimulates the renewal of cells and calms sensitive scalp. Excess oil is also removed without drying out the scalp.
If rose water is sprayed onto the hair between hair washes, it can eliminate unpleasant odours.
Flat curls can be given new impetus by rose water.
Rose water strengthens the hair roots and can thus promote hair growth. If it is left in the hair, it can even prevent hair root inflammation due to its cooling effect.
Leave-in care with rose water
As already mentioned, rose water adds a shine to the image. At the same time it is an excellent leave-in product that does not need to be washed out again. If the hair feels dry and dull, rose water can be added to the hair lengths and tips. This gives you more shine and makes you look much more alive and healthy.
Also helpful for dry scalps
As already mentioned, rose water can be helpful for oily and itchy scalps. Especially itching is often accompanied by dry scalp. As rose water also contains the essential oils of the rose, it has a balancing effect on dry scalps. As a hair tonic, it can be sprayed directly onto the hairline and develop its effect there
Aromatherapy with rose water
The delicate scent of the rose is something very special. No wonder that rose water is becoming increasingly popular in aromatherapy. Anyone who feels stressed and listless can relax better thanks to the harmonising active ingredients. If you have insomnia, it can be helpful to spray some rose water into the air and onto the pillow. If the pleasant scent is to fill the whole room, the use of a fragrance lamp or diffuser is recommended. Adding the scent of rose water to the bath water also has a positive effect on the mood and general state of mind.